What is Solstice?
Solstice is Mersive's wireless visual collaboration software that enables users to connect laptops and mobile devices to the display in the room for unlimited simultaneous sharing. It can be used in meeting rooms, classrooms, conference rooms, briefing centers, etc. – anywhere that media needs to be shared between mobile devices and displays or visual data is used as part of a collaborative group discussion.
Why would I want to use Solstice instead of connecting with a video cable or using another hardware connection?
With Solstice, you can walk into a room and connect any device to the display, no cables or additional hardware required. You don't need to worry if you have the right adapter or brought the right cable. You also do not have to pass the cable around or wait for the cable to become available before you can share your content to the display. Solstice supports an unlimited number of people connecting to the display simultaneously enabling visual collaboration that goes well beyond what is possible with a video cable and one person sharing content.
How do I setup Solstice?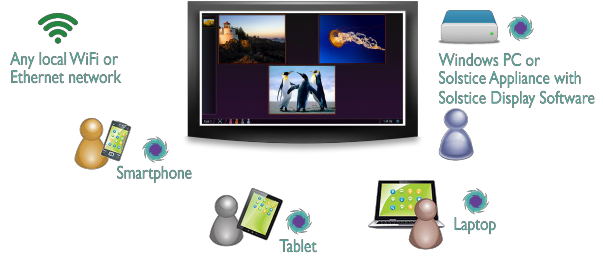 There are two software programs that work in tandem to utilize Solstice in your meeting rooms.
Solstice Display Software is licensed software that is installed on many Windows computer throughout Gatton in our study rooms, conference rooms and classrooms.
Solstice Client Software runs on the devices you want to use to connect to the display. Supported devices include Windows laptops, Windows Tablets, Mac laptops, iPads, iPhones and Android mobile devices. The Solstice client software is free and can be accessed by entering the display's IP address into the client device's browser, or it can be downloaded at any time from www.mersive.com/download/. All Solstice client devices need to be connected to the same wireless network (ukyedu) as the PC running the Solstice display software.