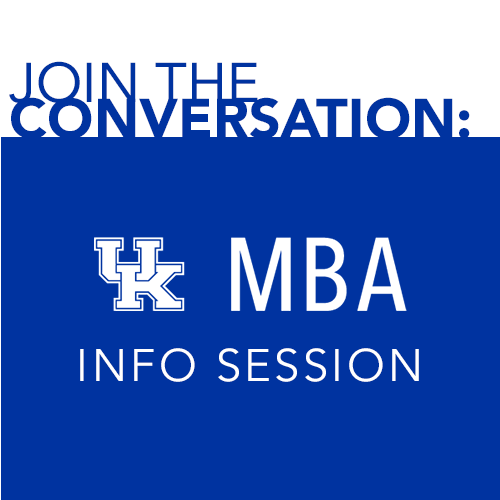 All Part Time MBA Info Sessions
HOW TO TURN A ONE YEAR INVESTMENT INTO THE POSITION YOU DESERVE.
We are thrilled that you are interested in pursuing your MBA at the University of Kentucky!
Take this opportunity to learn more about the Part-Time MBA program. As rising business professional, you can gain the experiences and skills for the next BIG step in your career. We want to provide the knowledge you need to make a sound decision on your MBA program selection.
In-person sessions are held in Conference room 330, in the Gatton College Building, located on the 3rd floor. 
If you decide to register for in-person session, please send Karla Schiebel (ksc280@uky.edu) a confirmation of attendance at least 3 days prior to the event.
Don't let your schedule stop you from joining us, you can attend virtually if you are not able to make it on campus.
We look forward to hosting you!
Sign up for an interesting presentation and discussion about our Part-Time MBA Program!
Please note we will need you to register and confirm your attendance prior to the event.