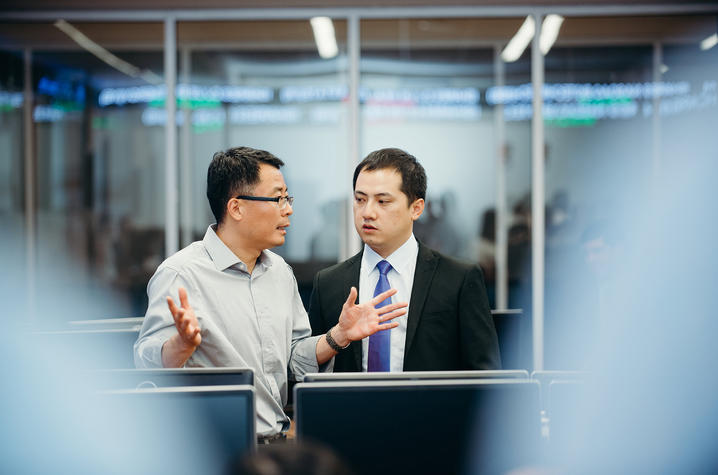 From job security to retirement savings — amid the COVID-19 pandemic, second to health concerns are Americans' anxieties over their individual finances.
Efforts to contain the spread have resulted in closings of businesses and industries, ultimately leading to unemployment. Those challenges are shining a spotlight on the importance of financial education.
"In the wake of COVID-19, there are many people who did not act on proper financial principles who are now scrambling for aid to make ends meet," Destin Bell, a recent University of Kentucky graduate, said. "While these are tough times for everyone, the tools given through financial literacy have the capability to better prepare people for crises like this."
In his personal and professional life, Bell often draws on lessons he learned as a marketing major. Now, Bell is encouraging other students to sharpen their money managing skills with the Financial Decisions Badge from the Gatton College of Business and Economics.
The badge is designed for non-business majors who are interested in attaining future success in the marketplace. The course — which runs July 9-Aug. 5 — will focus on using financial data for internal decision making, while reflecting within the current economic context.
"Understanding the current and future climate of the economy is a vital skill for all of our students — even those in majors not rooted in finance," Eric Monday, executive vice president for finance and administration, said. "We are preparing all of our students for life."
"FIN 250 was one of my favorite classes during undergrad. I loved this class, because it was undoubtedly applicable to everyday life," added Kelly Teta, a UK alumna. "One of the most significant takeaways from this class is the fact the financial success doesn't happen by mistake. It is important to formulate a financial plan in each phase of life to achieve the desired goal."
The Financial Decisions Badge is part of a pilot program that gives students an opportunity to take courses in a specific area — regardless of their major. Earning a badge demonstrates competency in the chosen area.
"The badge option is another example of how this institution adapts, keeping students at the center of everything we do," Monday said. "That's why I'm proud to continue in my teaching role for the Financial Decisions Badge."
Additionally, allowing students to choose which skills would most benefit their career aspirations will provide them with additional leverage when entering the ever-evolving workforce.
"It is impossible to prepare for every situation life may throw at you, but there are certain financial steps you can follow to help minimize the effects," Teta continued. "The goal of financial literacy is not to simply become wealthy. Financial health relieves the burdens of worry and stress that are often associated with money."
"No matter what profession you take, you will make money, and it's up to you to know what to do with it," Bell, who recalls taking Monday's FIN 250 course, added. "Because of that, I don't think there's a single person who this class isn't made for."
There are no prerequisite classes, nor credit hour minimums. However, to earn the Financial Decisions Badge, courses — including FIN 250 and ACC 202 — must be started and completed during Summer 2020.
For more information on Digital Badges, you can go online. To register for a Summer 2020 course, click here. If you have questions about the badge program, please contact Ashley Sorrell.