Thursday, November 11, 2021
8:45 am
Gatton 307 - Woodward Hall
The Women in Finance Summit will be celebrating women who are currently in the Finance field and the rising professionals in the Gatton College of Business and Economics.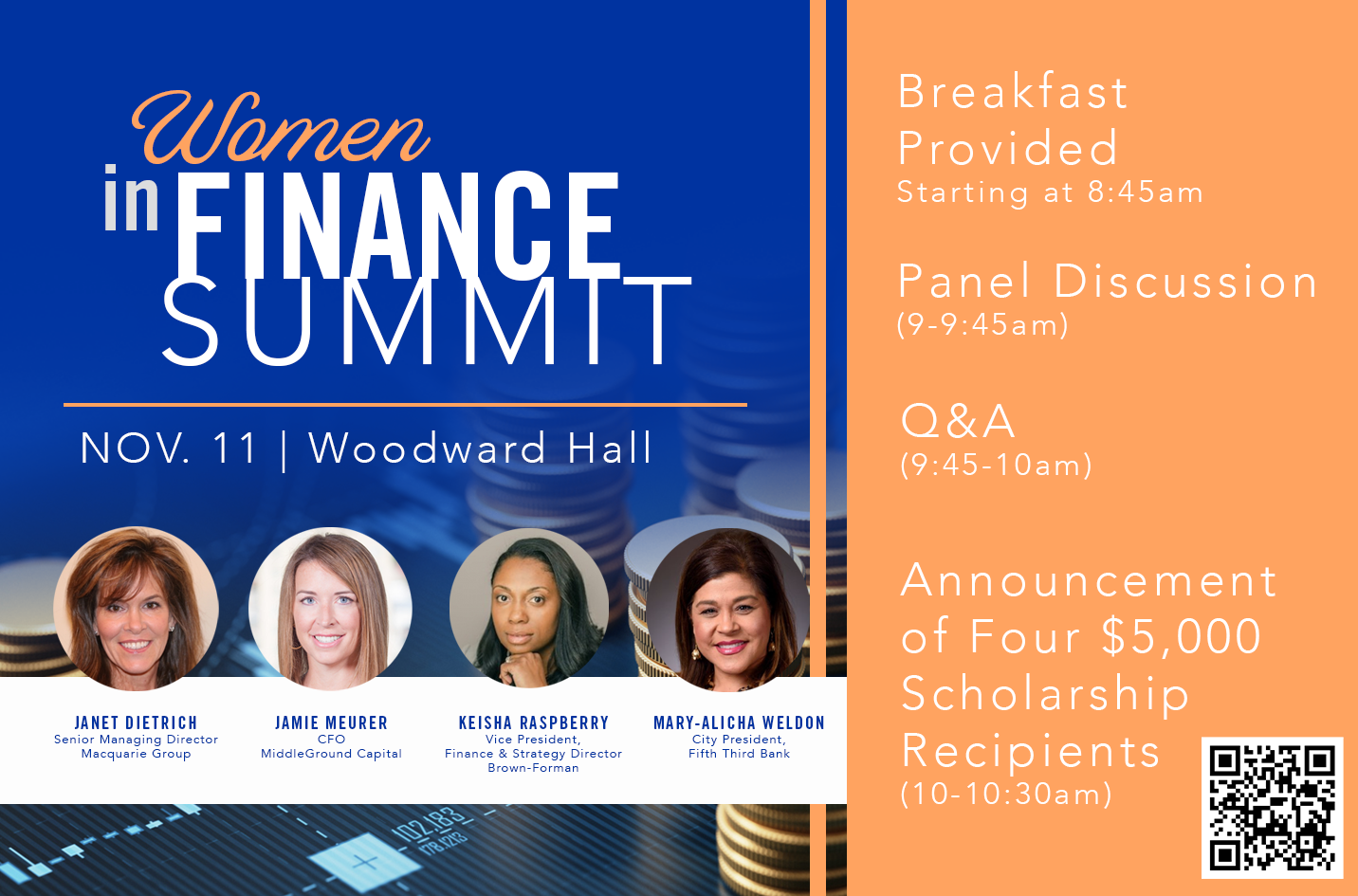 Janet Dietrich
Senior Managing Director, Macquarie Group
Janet is the Senior Managing Director and Head of America's Corporate Sales and Co-head of Upstream Oil & Gas for Macquarie Group's Commodities & Global Markets division. She is also a member of the US Management Committee. Macquarie Group is a leading provider of financial, advisory, investment and funds management services worldwide. Macquarie's Commodities & Global Markets division provides an integrated, end-to-end offering across global markets including equities, fixed income, foreign exchange and commodities.
Janet has over twenty-five years of energy trading, marketing and management experience and has held senior positions managing global energy sales, marketing, financing and trading business' across the wholesale and retail markets, for both physical and financial energy commodities. She has previously managed commodity businesses at JPMorgan, Calpine, and Enron.
Founded in 1969, Macquarie Group operates in 27 countries and employs approximately 14,000 people worldwide. Assets under management approximate $A481 billion as of March 2017. Macquarie has 5 primary businesses including Macquarie Asset Management, Corporate and Asset Finance, Banking and Financial Services, Commodities and Global Markets, and Macquarie Capital.
Mary-Alicha Weldon
City President & Commercial Banking Team Lead, Fifth Third Bank
Mary Alicha works and consults with companies in the distribution, manufacturing, service, energy and construction industries (companies generating annual revenues in excess of $20 million). She is tasked with developing appropriate capital structures, performing working capital analysis in addition to delivering a team approach which encompasses specialty partners who deliver treasury management solutions, capital market strategies, institutional and global business solutions, in addition to other financial services.
Jamie Meurer
Chief Financial Officer, Middle Ground Capital
Jamie is the CFO at MiddleGround Capital. Jamie is responsible for managing fund accounting, firm accounting and managing our back office with Monica. Prior to MiddleGround, Jamie worked for Viking Partners, a Real Estate private equity firm based in Cincinnati, Oh. Jamie is a graduate of the University of Kentucky and a CPA.
Jamie enjoys spending time with her husband Ben and 2 daughters, Madalyn and Maci. Today Jamie and her family are homeless. Don't worry, we won't be taking up a collection for them because they just purchased a new boat that they can live on until Jamie finds their next house to sell. Jamie enjoys keeping up with the latest fashion trends. Jamie is multi-talented, speaking all 3 languages native to Kentucky (English, Lexingtonian and Hills & Hollers.
Keisha Raspberry
Vice President, Finance & Strategy Director, Brown-Forman
Keisha currently serves as the Vice President, Finance & Strategy Director for the US & Canada at Brown-Forman where she oversees the financial strategy and revenue growth management for the company's largest region. Keisha has more than 18 years of finance, strategy, and leadership experience holding expansive roles across leader across MillerCoors, Texas Roadhouse, Lexmark International, and Brown-Forman. Keisha is an empathetic leader, holistic thinker, and a passionate champion for Diversity, Equity & Inclusion.
Keisha was born and raised in the small town of Clinton, KY. She attended the University of Kentucky's Gatton College of Business & Economics where she received her Bachelor of Science in Accounting in 2002. Keisha was an ambassador for Gatton College during her time at UK. Keisha also holds an MBA from Bellarmine University. Currently, Keisha resides in Atlanta, GA with her husband, Alexander, and their three sons; Ethan, Joshua, and Ayden.
Kristine Hankins PhD
William E. Seale Endowed Professor of Finance, University of Kentucky
Kristine Hankins is the William E. Seale Endowed Professor of Finance at the University of Kentucky. Her research interests include corporate finance, corporate risk management, and methodology issues and she is a prior winner of the Jensen Prize.
Prior to her academic career, Kristine held positions with Merrill Lynch's Private Equity Group and PricewaterhouseCoopers' Financial Securities Litigation practice, both in New York City. She earned her B.A. from the University of Chicago, a M.S. in Statistics from Rutgers University, and her Ph.D. in Finance at the University of Florida.
When:

Thursday, November 11, 2021
8:45 am – 10:30 am

Where:

Gatton 307 - Woodward Hall

Audience:

Students, Graduate / Professional Students, Faculty / Staff, Alumni