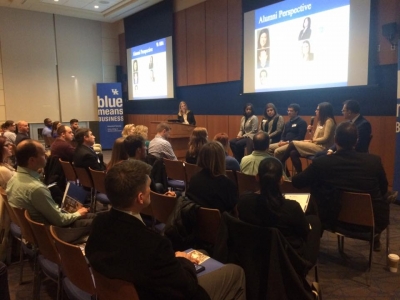 The University of Kentucy's Gatton College of Business and Economics recently hosted a Professional MBA Open House event, which was open to all working professionals in Central Kentucky who were exploring a professional MBA program and seeking additional leadership or advancement opportunities in their careers. The UK MBA programs that were introduced to the audience included the Professional MBA, Professional MBA (For Leaders in Healthcare) and the Executive MBA. 
At the event, the focus was on the part-time, evening Professional MBA which is a program designed to bring together a diverse network of working professionals (typically with 5-10 years of professional experiences) from various companies, organizations and industries. Gatton speakers at the Open House included UK MBA faculty, staff, alumni and other partners of the program. They each provided a unique perspective on the MBA program and offered guidance to the prospective candidates of working professionals in the audience representing many industries including engineering, law, healthcare, agriculture, transportation, manufacturing, technology, banking/finance, government and military. 
The centerpiece of the event was the alumni panel discussion, which included successful alumni of the Professional MBA program (pictured):
Dr. Ken Troske, Associate Dean of Graduate Programs and Outreach at Gatton said "I believe we have the best business college in the state of Kentucky and one of the best in the region for higher learning. We have an excellent faculty that bring a wide variety of knowledge and professional experiences into the classroom. We believe that our professional MBA programs give our graduates a competitive position in the marketplace, while increasing their human capital. In addition, we have one of the best alumni networks here at the University of Kentucky and they are a great resource for our MBA talent." 
For additional information or questions, please contact Christopher Carney, Director of MBA Recruitment at the University of Kentucky's Gatton College of Business and Economics.