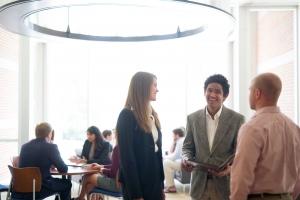 The MBA Center at the University of Kentucky's Gatton College of Business and Economics recently hosted a successful, three-day certificate on Project Management which was open to the entire UK MBA student body, alumni and other partners of the program. With over 100 attendees, this was the largest enrollment for this certification program since the program began five years ago. Attendees included students from both the One Year MBA and Professional MBA cohorts as well as professionals from our Project Connect partners and our MBA Advisory Council.
"We were very excited and encouraged to see such a large group of our MBA students and others attend this valuable certification course," said Harvie Wilkinson, Director of the Gatton MBA programs. "Through participating in this training, our participants can now sit for the Certified Associate in Project Management (CAPM) examination."
The MBA Center will host additional certification programs on Global Management and Lean Six Sigma in the coming months, both of which will be open to students from both cohorts as well as business partners associated with the MBA program.