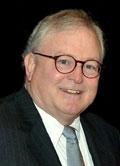 Inducted: 2015
BS in Accounting, 1974

Joseph Wm. Foran is the founder of Matador Resources Company (MTDR). Foran began his career as an oil and natural gas independent in 1983 when he and his wife, Nancy, founded Matador Petroleum Company. In 2002, Ernst & Young selected him for its "Entrepreneur of the Year" award, and Oil & Gas Investor magazine named Matador Resources to its 2015 list of "15 Dream Companies" to own.
Foran earned his B.S. in accounting from the University of Kentucky, and his J.D. from Southern Methodist University. At UK, he was a member of the Student Center Board, Omicron Delta Kappa (leadership honorary), Beta Gamma Sigma (academic honorary), and was one of the first inductees into the UK Rugby Hall of Fame.
For over 25 years, Foran has given scholarships to graduating seniors across Texas and Oklahoma, and has provided for scholarships and endowed chairs at the University of Kentucky, Texas A&M University, and more. He has taught as an adjunct professor at Southern Methodist University and the University of Texas at Dallas.
Click here for Mr. Foran's video from the 2015 Hall of Fame event.