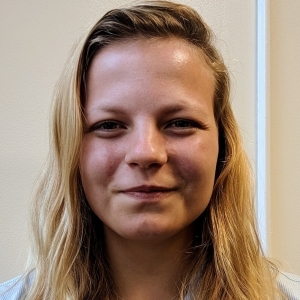 Crisann McCloy, alum of the One Year MBA program at the University of Kentucky's Gatton College of Business and Economics, recently received the Young Professional Award from the National Association of Educational Procurement (NAEP), which recognizes the efforts of outstanding young procurement professionals who make great strides and contributions to the education procurement industry. Since the 1920's, NAEP has been the non-profit professional Association primarily dedicated to serving higher education purchasing officers in the U.S. and Canada. NAEP's mission is to facilitate the development, exchange and practice of effective and ethical procurement principles and techniques within higher education and associated communities, through continuing education, networking, public information and advocacy.
Crisann was nominated by Melanie Freeman, Director of Education and Events at NAEP, who stated that "Crisann brings a dynamic personality to the NAEP Kentucky region." Crisann volunteered as the secretary and treasurer for the Kentucky region in 2018 and made significant contributions to the region and to the association. 
NAEP is a member-focused association providing progressive knowledge management in strategic sourcing, supply chain, materials and logistics for procurement professionals. NAEP provides professional development and networking opportunities regionally and nationally. These meetings, workshops and seminars provide knowledge transfer in procurement ranging from beginning to advanced professionals and are conducted throughout the year and across the nation. Currently, over 800 colleges and universities are NAEP members. 
"I definitely would not be where I am without my MBA, nor without the incredible team who helped make this happen," says Crisann. "This recognition is a team victory, and definitely should praise the UK MBA program for its stellar preparation of its students for the professional world." 
Crisann is currently a Senior Financial & Business Analyst at the University of Kentucky and graduated with her MBA from the Gatton College of Business in 2018. She received her Bachelors degree in Entrepreneurship from Thomas Edison State University.