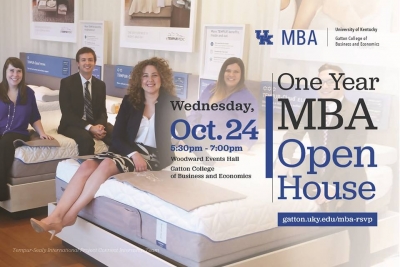 UK MBA alumni from Valvoline, Nissan North America, Catalent Pharma Solutions and the University of Kentucky will be featured at the University of Kentucky's Gatton College of Business and Economics on Wednesday, October 24th on campus. These speakers are hosted by the Gatton College One Year MBA program, as part of Gatton's One Year MBA Open House event which is open to all students and majors, young professionals and recent graduates. 
This professional panel will include Chris Collins, Assistant Trade Marketing Manager at Valvoline World Headquarters; Vishnu Jayamohan, Senior Program Manager at Nissan North America; Lee Goatley, Technical Proposal Lead at Catalent Pharma Solutions; and Crisann McCloy, Senior Financial and Business Analyst at the University of Kentucky. These business leaders will discuss their graduate school experiences in the MBA program at UK's Gatton College, as well as their own experiences navigating today's business climate. 
Chris Collins began his career at Valvoline as a Project Connect intern in 2013, and has since advanced into several leadership roles including Replenishment Planner, International Forecast Analyst and his current position as Assistant Trade Marketing Manager. Collins graduated from the University of Kentucky with both his MBA and B.A. in Spanish. 
Collins credits his UK MBA degree, which he earned in 2014, with helping him make a successful transition as a Spanish major into a business function at Valvoline. "I was able to speak several languages already, however wanted to compliment this with some strong business skills before entering into my career," Collins said. "After taking my MBA classes in management, finance, economics, and more, I felt more confident in being able to grow and advance at Valvoline."
Vishnu Jayamohan, who earned his MBA and Mechanical Engineering degrees at the University of Kentucky, has been with Nissan North America since 2011 and his currently the Senior Program Manager. Jayamohan's responsibilities include managing the midsize Sedan and crossover portfolio in North America with revenues more than $10B annually. In addition, Vishnu oversees special projects and in close coordination with global planning, R&D, economic control and regional counterparts. Vishnu's previous experiences include leadership positions at Cummins, Inc., Xerox and Volkswagen. He is also a new member of the MBA Advisory Council at Gatton. 
Vishnu praises the skills he learned in UK's MBA program. "My degree from Gatton has been essential in becoming a successful member of the Nissan North America team. The different MBA classes helped me with my communication, team-building, problem-solving and global knowledge to be a more effective leader."
Lee Goatley joined Catalent Pharma Solutions, a global provider of drug development solutions, delivery and supply partner, in 2018 as a Technical Proposal Lead bringing previous operations specialist, analyst and management experiences from Alltech. Goatley was a Spanish and Biology major from Westminster College and graduated with her MBA from the University of Kentucky in 2013. 
Goatley says, "If you want to make yourself more marketable in today's competitive job market, or seeking advancement into different leadership and managerial positions, then I would recommend considering an MBA. The UK MBA was certainly a great decision for me."
Crisann McCloy graduated with her MBA from the Gatton College of Business and Economics and was recently hired as Senior Financial and Business Analyst at the University of Kentucky. Before pursuing the UK MBA, McCloy received her Bachelor's degree in Entrepreneurship from Thomas Edison State University in 2015 along with several years of professional experience in human resources and supervisory training roles. 
McCloy says, "I'm glad I chose to advance my business skills in the MBA program at Gatton. More importantly, my peers and professional connections that I met inside and outside of the classroom was very valuable for me. I'm very blessed to now be working at the University of Kentucky and my MBA was very instrumental in helping me be more competitive for my new position."
The One Year MBA Open House at the University of Kentucky provided the opportunity for community members to find out more about Gatton's One Year MBA and Dual Degree programs. For more information, please contact Christopher T. Carney, Director of MBA Recruitment at the Gatton College of Business and Economics.