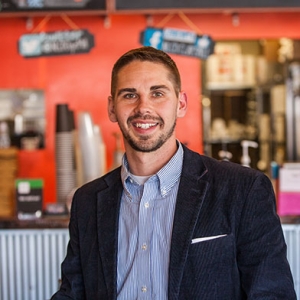 UK MBA alum, Teddy Ray is a successful co-owner of the popular North Lime Coffee and Donuts, an eclectic and artsy spot known for its house made specialty donuts and freshest coffee with stores in both Lexington and Louisville Kentucky. Opening in 2012, North Lime provides a fun community atmosphere and works with local coffee roasters to support the local economy with 10% of all profits going towards a local charity or fundraiser.
"The doughnut enterprise is fun because the product is fun," Ray said. "We make fun things, we share fun things on our social media channels and our employees contribute to the creative process. That's what makes it rewarding for us."
The sense of community is noticeable the second you walk into any of the North Lime locations including the most recently opened store in Old Louisville. All doughnuts are made in house and the baristas go through an intense training process to make the best espresso beverages around.
"In my MBA program at the University of Kentucky," Ray said, "we had to create a business plan. I have no idea what I created then, but the whole program trained me to look at financials, see what is going on in a business and know how to come up with solutions to fix any problems."
Teddy Ray graduated from the University of Kentucky with his Bachelors degree in Communications and MBA, class of 2005. Ray then received a Masters of Divinity (M.Div.) from Asbury Theological Seminary and is also the Lead Pastor at the First United Methodist Church in Lexington, KY.