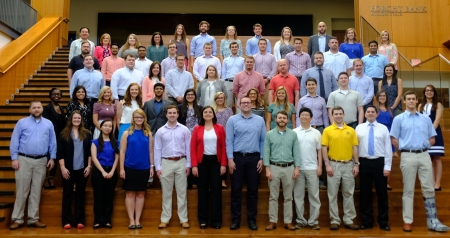 The University of Kentucky's Gatton College of Business and Economics welcomes an experienced and professionally diverse group of students into the MBA program. Compared to previous years, this 2017 Professional MBA class also brings more professional work experience and higher GMAT/GRE scores along with an increase number of international candidates and professional women. The complete class profile can be found here.
"We are very excited about this new group of professionals joining our MBA program and we feel confident they will bring a lot of value into the classroom," said Harvie Wilkinson, MBA Program Director at the University of Kentucky's Gatton College of Business and Economics. "We were more intentional in our recruitment strategy this year, and worked closer with our alumni, faculty, business partners and company leaders."
The Professional MBA is Gatton's evening program that brings together a diverse network of working professionals from various work experiences, companies, and industries such as engineering, law, healthcare, agriculture, transportation, manufacturing, technology, banking/finance, government and military. Students in this program can also take advantage of new course electives, giving them more customization of their MBA experience along with valuable certifications. 
Please review the Admissions Requirements, MBA Preparatory Courses and updated GMAT/GRE Waiver Policy before applying. For additional questions, please contact Christopher Carney, Director of MBA Recruitment.