Gatton Research & Teaching Excellence Awards Reception
Thursday, May 4, 2017
All Day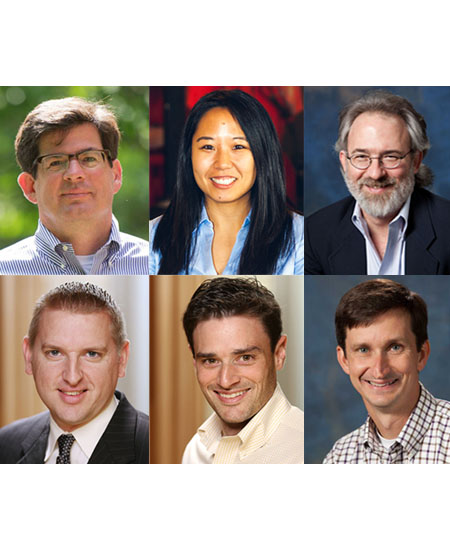 Join us to celebrate our colleagues and the outstanding research and teaching happening in the Gatton College. Refreshments provided!
Gatton College Research & Teaching Excellence Awards
Walter Ferrier
Teaching Excellence Award – Faculty
A few comments from the students who nominated Dr. Ferrier:
"Wally was a life changing professor for me. Over my academic career I have earned degrees from Duke University and MIT in addition to UK. Wally blew the professors at these other universities out of the water."
"He has a 30,000 foot perspective on life in general and that translates over to the classroom in the way he teaches."
"He takes student's suggestions seriously and even uses student input to determine the direction of the course and instruction. His teaching is applicable and uses real work examples."
Jenny Wang
Teaching Excellence Award - Graduate Student
The Gatton College Teaching Excellence Award for a graduate student is awarded to an instructor who is also in the process of earning a graduate degree. This award is given to a graduate student who inspires undergraduates and displays exceptional skill as a new teacher. "She encourages her students and makes sure they know they have someone in their corner," said one nominator. "She never lets a student give up, and as a former student, I needed that and deeply appreciate it."
Steve Borgatti
Research Excellence Award - High Impact
This award is given to a faculty member that published work that is particularly impactful after a five-year period. In works published from 2012-2016, Steve Borgatti has garnered more than 1,500 Google Scholar citations. Most notable is his 2013 book, Analyzing Social Networks, with 669 citations and a 2012 MISQ article, Kane, Alavi, Labianca, & Borgatti with 313 citations.
Brian Bratten
Research Excellence Award - Research Productivity
This award is given to a faculty member that published work that is particularly prolific over the previous four-year period. In the last four years Brian Bratten has published (or has forthcoming) six "A" level articles: two in The Accounting Review, two in Contemporary Accounting Research, one in Review of Accounting Studies, and one in Accounting Organizations & Society. He also published three articles in AAA section journals which are the top specialized journals in their respective fields. This includes Journal of Management Accounting Research, The Journal of the American Taxation Association, and Auditing: A Journal of Practice and Theory. The paper published in Auditing won the 2015 Best Paper Award for papers published in the journal from 2011-2013.
Russell Jame
Research Excellence Award - Junior Faculty
This award is given to a non-tenured faculty member and is intended to recognize early career achievements. Over the 2013-2016 period, Russell Jame has published two articles in the Journal of Financial Economics, one in the Journal of Accounting and Economics, and one in the Journal of Accounting Research. In addition, he has a solo-authored article accepted and forthcoming at Management Science. These outlets are all genuinely elite and among the very best in their respective fields. This breadth across three disciplines is extraordinary.
David Hardesty
2017-18 University Research Professor
"Dr. David Hardesty is a leading researcher in the areas of behavioral pricing, emotional intelligence, knowledge, political ideology, and measurement. He has published more than 30 papers which have garnered nearly 3,000 citations in many of the top journals in the field of marketing."

When:

Thursday, May 4, 2017
All Day

Where: